Do you want to move to boston?
A Prelude of Things to Come
Sometimes seemingly innocent and innocuous questions just like that can lead you down paths you never knew were there.  And that's how this epic road trip began.  We basically packed up what we couldn't part with, sold everything else, and criss crossed through the US starting in Rancho Bernardo in San Diego, California on April 30th, 2007 at 6 AM; and ending in Brookline Village in Boston, Massachusetts in June 2007.
Yes!
I remember it quite well.  I was in my cube at HP in the morning.  My cube was filled with everything a mechanical engineer would want.  I had a fast workstation with two monitors turned upside down.  My desk was a mess of various printers in different states of disassembly.
I hadn't put too too much thought into it.  We would text each other regularly, even when I was working overseas.  And so that morning, I sent Asa a text, "Do you want to move to Boston?"
And not too soon after, she replied, "Yes!"  I think I remember Asa telling me that she was at work at the time… or was it biking to work?
With those two text messages, Asa and I began planning our first trip together as a couple.  We had only gone on a handful of dates, but we texted and wrote to each other furiously.  It's interesting now that I think back to it… I was 27 and Asa had just turned 20.  We were both restless and needed change and more chaos.
It was quite the road trip where we didn't really know where we were going or what we wanted.  But we wanted to go, and so we did.
Step 1: Sell Convertible, Buy Station Wagon
I sold my addictingly fun to drive 2004 Honda S2000 to a young 19 year old soldier just back from his first tour in Iraq.  He was really enthusiastic and had all this cash to spend.  He told me that it was his hazard pay and had always wanted an S2000.  After a quick few emails and a phone call, he was at my apartment and I showed him an immaculately cared for but well driven Silver with Red and Black interior S2000.  He was immediately in love with it and we signed docs immediately.
I was going too fast.
I found out a couple weeks later that he had spun out and totaled it not too far away from Camp Pendleton.  He was unharmed except for a wrecked car.  I asked him what happened and he gave me a simple and short answer that didn't need elaboration: "I was going too fast."
Now that I think about it, I remember he stalled it when driving it away.  His buddy got a kick out of it and if his friend's a good guy, he'll never let him hear the end of it.
I used a portion of the funds from selling my S2000 to buy a much more suitable machine for a road trip.  We needed something that could carry all of our stuff, it needed all wheel drive, and it needed to be reliable.   That machine was a used Silver 1998 Subaru Legacy Wagon with cloth interiors and about 90k miles on it.  The only things I did to get it ready for the road was to upgrade its factory deck, add a bike rack, and put on a set of new tires designed for high wear and tear. ## Backwards Bikes
If you're wondering why the bikes are mounted backwards, it's because the back door of the wagon is a hatch back.  When I first got these bike racks (I think they're Thule brand) from my friend and fellow jumper Kennon, I installed them in the recommended forward orientation.  But then I found that the racks overhung the back of the car, so the hatch was impossible to open without destroying the racks.
What a dilemma.  Asa and I both love biking around and we want to have our bikes handy in case we find some interesting roads to go down.  But these racks don't work and the mounting hardware included with the racks don't allow for backwards mounting.
The solution?  Before my last day at work, I machined up a couple of adaptor brackets with some scrap aluminum at HP's fabulous machine shop.  I messed up the first version… and didn't like the second version.  But the third set, they were perfect.  They held up extremely well, never giving an inch, as we'll later find out in St Louis when I ignore one of Asa's warnings.
Visiting Family
One of the things we wanted to do during this trip is to visit friends and family who are all over the US.  There's my family in LA, Sacramento, and Connecticut;  and Asa's family, a bit more spread out, can be found all throughout the US and between San Diego, Berkeley, Boston, and Florida.  So let's try to visit as many friends and family as we can along the way!
Of course, some cherished people aren't compatible with an open ended road trip.  This is Asa's cat Isis, whom she rescued one night.  From what I remember of the story, it was nighttime and she was in the car with her boyfriend.  She saw a kitten dart in front of the car, and Asa ran out to go save her.  She brought her home and named her Isis.  Asa was living at home at the time with her sister Hannah, brothers Micah & Gabe, and her mom & dad.  And please forgive me Asa but my memory is a bit fuzzy about when I first met your dad.  I'll update this paragraph later when I can sort that out.
Part of leaving is that it may be a long time before we'll see our parents, brothers, and sisters again.
But adventure awaits those who seek it!  And the excitement of new experiences, new challenges, new adventures, and a new partner in crime is just too exciting for either of us to contain. Our first official stop?  [The Grand Canyon](http://www.nps.gov/grca/index.htm).  Both of us love the outdoors and camping, so I had reserved us a drive-in camping spot on [the southern rim,](https://www.google.com/search?q=southern+rim+grand+canyon&espv=210&es_sm=91&tbm=isch&tbo=u&source=univ&sa=X&ei=bQYRU_39GpD-oQSXg4DYBQ&ved=0CEMQsAQ&biw=1246&bih=806) not too far away from the [Bright Angel Trail](http://en.wikipedia.org/wiki/Bright_Angel_Trail "Bright Angel Trail").
Miles: 0
Go for the gusto
From San Diego, we drove up the 5 freeway to Los Angeles where we made a quick visit to my parents and then stayed the night at my friend Joel's place.  Joel and I are old engineering school buddies.  Our crew dominated the senior year engineering project.  We had a way of choosing the more ambitious projects.  Or, as Joel had put it, "Go for the gusto."  And we did:
Joel was working as an Imagineer at Disney at the time and had an apartment with a guest room in Burbank (I believe, but I may also be wrong) and was nice enough to let us stay so that we could get an early start the next day.  It was nice catching up with him and his wife Tamara.  They are an absolutely solid couple whom I would say people should look out for if their kids are anything like their parents.  Hard working, understanding, attentive, loving, kind, inquisitive, tolerant, and caring… they are who I think of when I think of good people who are also good Christians. **Miles Since Last Gas Stop**: 99
Gas Bought: 3.959 Gallons
The route to the Grand Canyon from Joel's apartment had us taking the 134 East to the 210 East to the 15 freeway which then goes through Las Vegas.  After doing a quick "anything you want to do in vegas?" check, we figured that since neither of us gamble or like going into excesses requiring that protocol be followed, we decided to instead go see the Hoover Dam and take that route out to the Grand Canyon.  So thus the road trip continues from Joel and Tamara's on Tuesday, May 1 at 8:31AM.
"Is there anything you want to do in vegas?"
Looking back, I don't think either of us really grasped the foreshadowing or irony that was both our decision to bypass Vegas and our answer to that question.
In any case, the road there had some neat things to stop and say you stopped at it.  There's Zzyzx Road along the 15 East somewhere in the middle of the Mojave National Preserve…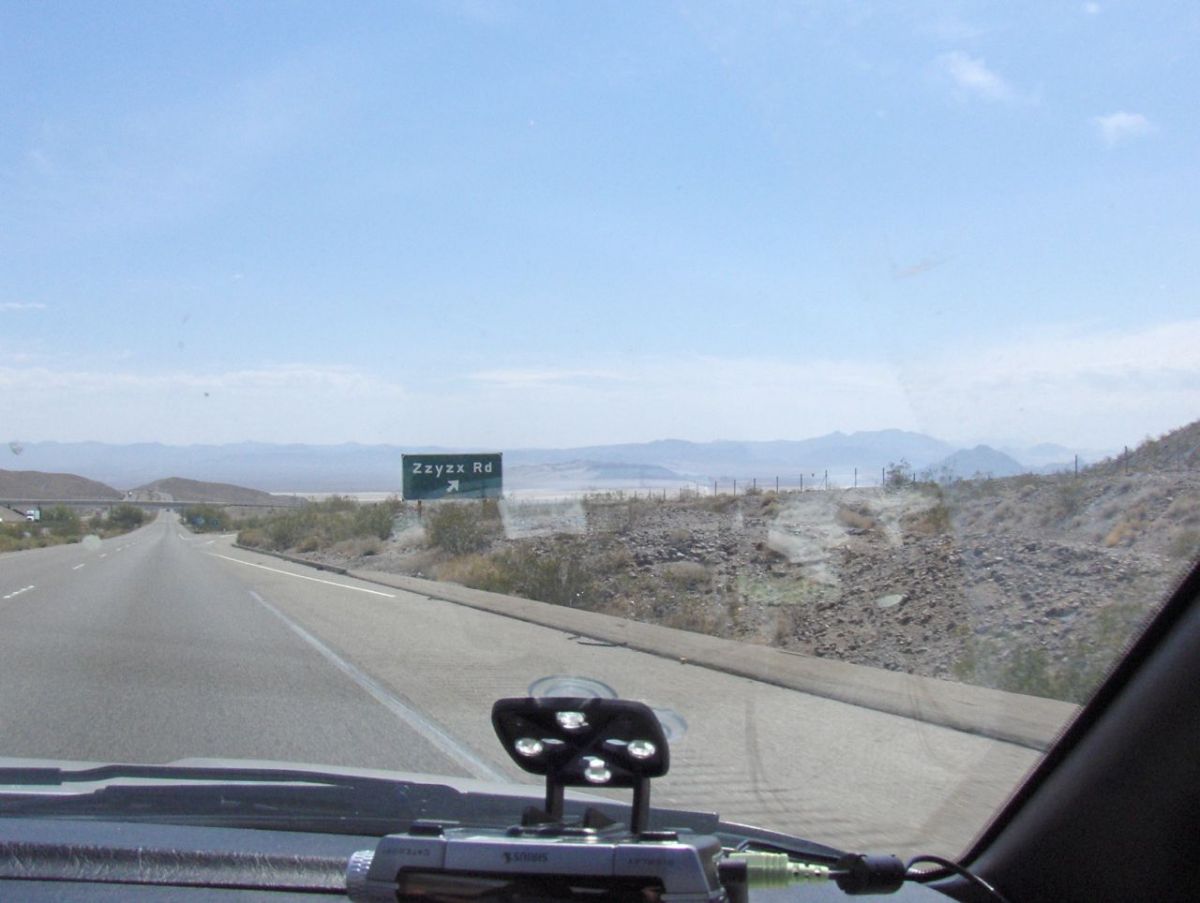 Notice the awesome Sirius radio receiver we added onto the Subaru.  Before heading out, I had upgraded the Subaru's sound system with a decent alpine deck w/ an AUX input in the front (vital!, it's that green wire plugged into the right of the satellite receiver), decent boston acoustic component speakers, and satellite radio.
Satellite Radio Is Dang Awesome
Best decision ever.  Well worth the $60 a year we paid for it.  My older brother Hang hooked us up and let us piggy back off his account.  He also had a spare receiver just lying around his house.
Before visions of iPods and sugar plums go dancing in your head, remember that this is before either of us had an iPod or even knew that we wanted one.  Heck, Asa didn't even have a computer.
I can't tell you how many long and featureless hours of road we drove straddling the limits of what's reasonably above the speed limit – 79 in a 75 zone? 64 in a 55?.  Being able to have hundreds of static free radio stations to choose from and not having to hunt for new stations as we passed from city to city, over the mountains, and through the woods… was awesome.
Though I think we mostly ended up on the comedy station.  We discovered Mike Birbiglia's Secret Public Journal that way.
The Bun Boy Motel and the Gateway to Death Valley
Miles Driven Since Last Gas: 218.75
Choosing not to take the bait of following the road to the end of the dictionary, we found out that the Gateway to Death Valley…
is in Baker and not too far away from the [Bun Boy Motel](http://www.yelp.com/biz/bun-boy-motel-baker "Suck it hipsters, we were there long before it was cool."). So, after grabbing a quick snack at the [Mad Greek](http://www.yelp.com/biz/the-mad-greek-baker "The Mad Greek in Baker, Ca") and another final stretch we set off through Vegas and towards the Hoover Dam, The Death March, running from the Cops (sort of), Beating the Flood, and to adventures unknown…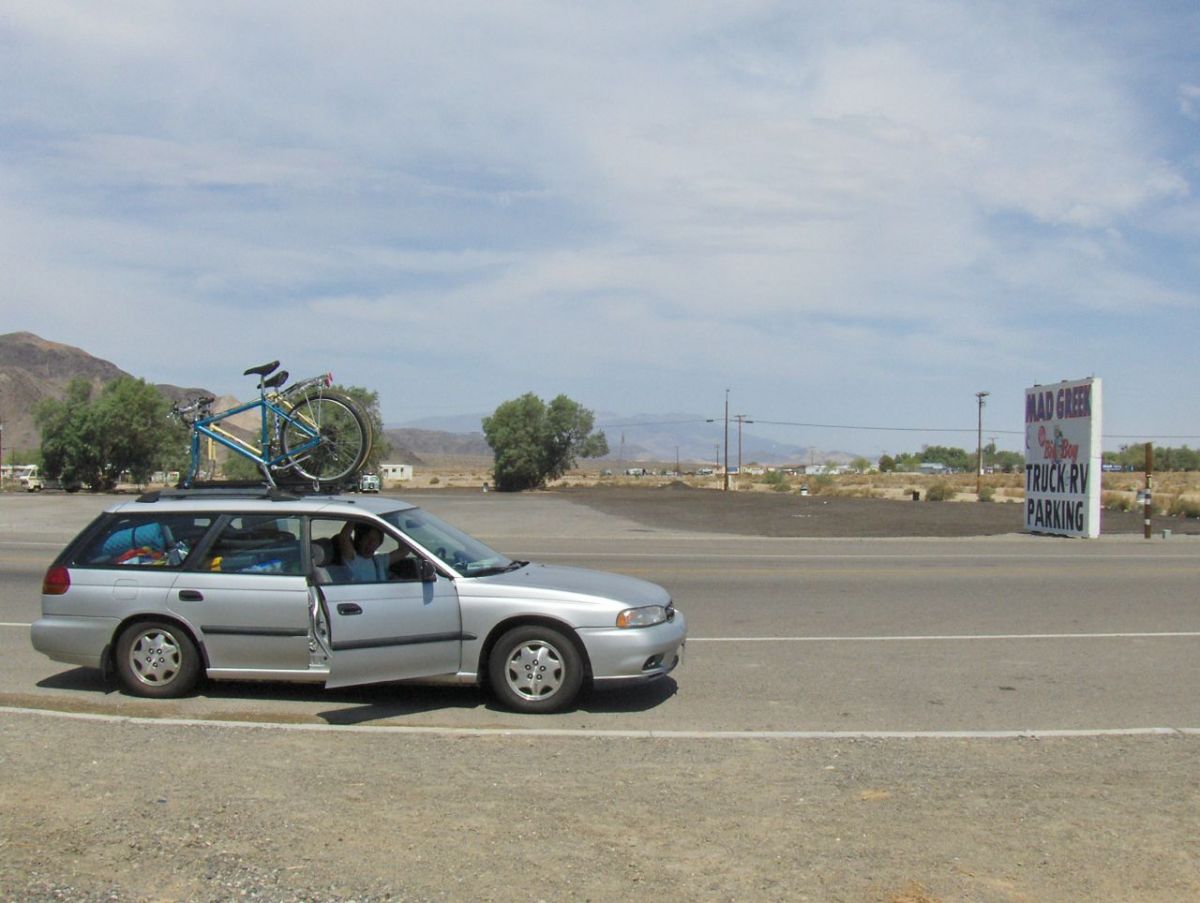 Ro be continued in Part 2.
---
Asa and I had no particular place to go and no particular place to be.  We just went where we wanted to go.  It was and still is one of the most favorite times of our lives.  Part 1, 2 (Coming Soon)