Just a quick post today… part 4 will be much longer!
You're not from around here, are you?
As we were just setting off on this road trip, Asa and I wondered out loud how long we thought it'd be until someone would say to us, "You're not from around here, are you?"
From the beginning of our relationship, there were going to be problems.  I know now exactly how big these gaps are which needed to be bridged, but back then… I'd say I was blissfully naive.
In any case, one of the things we experience often are looks, stares, nice comments, odd comments, and the occasional curious person.  Neither of us are particularly different looking.  I guess it's just our combination that you don't see too often.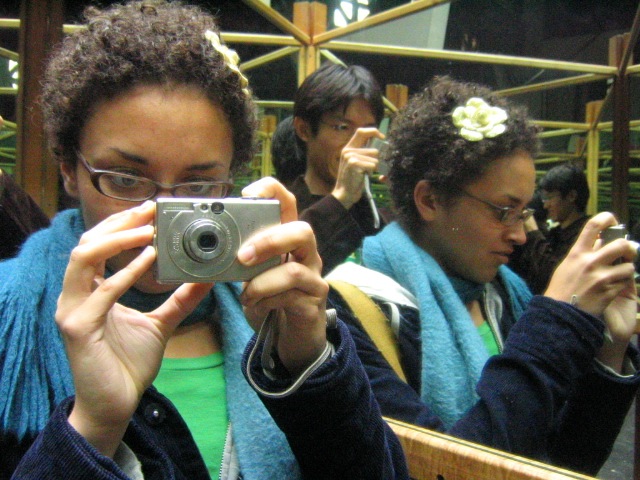 The topic of race finds its way into our conversations from time to time.  This question of when we think someone will ask us this question was in a way an open admission to each other that we do expect some racism.
We lightly bantered about exactly what variations of that phrase would qualify before figuring that we'll know when it happens.
And to our surprise, it happened not too soon after the Bun Boy motel right around Ashfork, Az where we stopped for food and gas.
Miles since last gas: 197.35
Gas bought: 9.906 @ $3.26/gal
I think that it happened while we were standing in line at a burger king or a subway.  There was this older gentleman who was walking along the line in front of us.  He kinda gave a glance over to us, and then hesitated a second before saying with a slight smile and inquisitively squinted eyes, "You guys aren't from here."
[![Let's Get Cracking](http://res.cloudinary.com/dr8ejumps/image/upload/c_crop,h_500,w_500,x_0,y_82/h_150,w_150/v1436546448/cracking_esqfme.jpg)](http://journeytojustus.com/2014/04/21/want-move-boston-part-3/lets-get-cracking/)
[![Doesn't Work](http://res.cloudinary.com/dr8ejumps/image/upload/c_crop,h_903,w_903,x_148,y_0/h_150,w_150/v1436546447/rundmc_csgxlw.jpg)](http://journeytojustus.com/2014/04/21/want-move-boston-part-3/doesnt-work/)
Middle of nowhere in Arizona, it's been on and off pouring rain, and in wanders in this cute brown girl with a flower poking through curly hair, freckles, blue eyes, wearing flip flops, dangly ear rings, and a sun dress; holding hands with an olive skinned, fresh faced, rimless glasses, clean cut, 6′ tall possibly mixed asian fellow in jeans and a t-shirt.
And they smell like they've been sitting in a car together for a few days.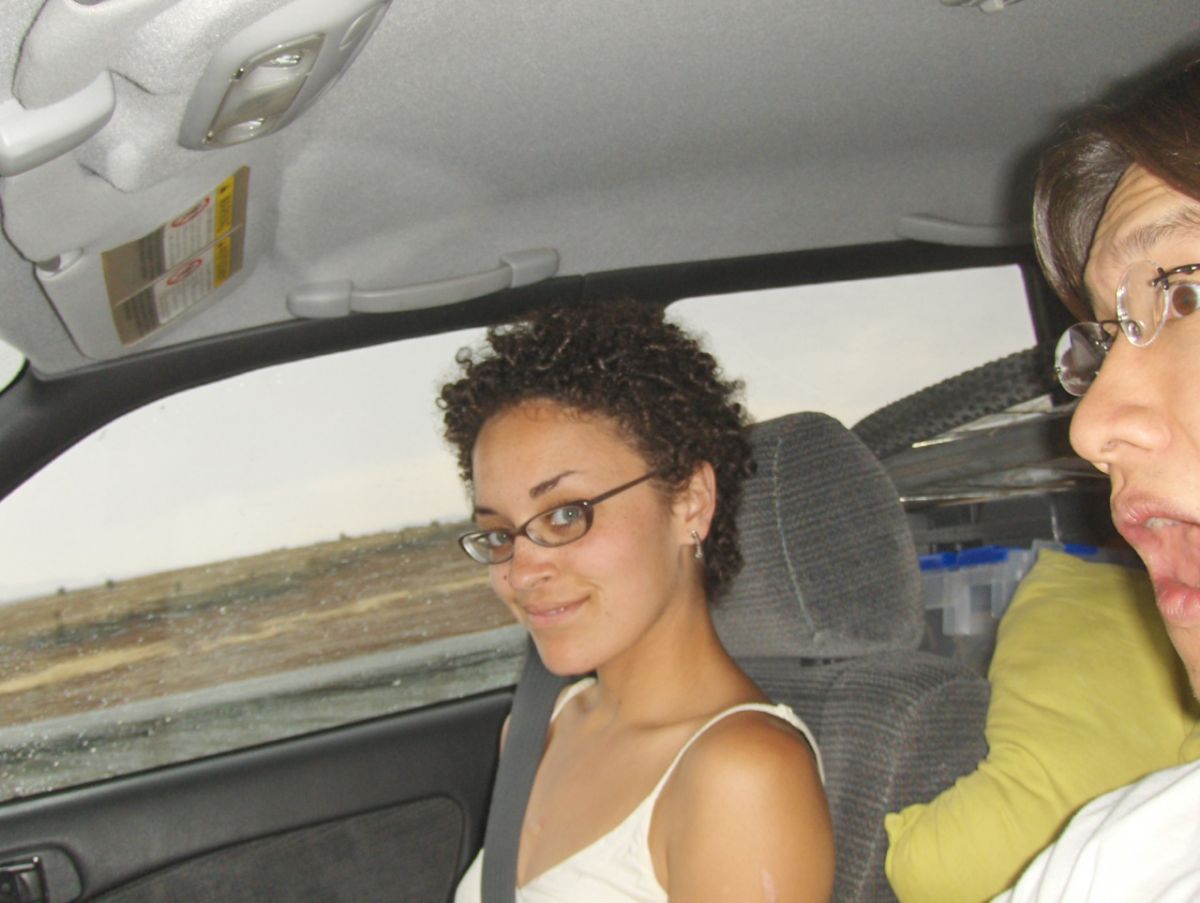 This is amongst your normal truck stop faire of truckers and retired folk who like living quietly in the area.  But it wasn't really anything we would say is out of the ordinary.  And to tell you the truth, even the shady frog pond gas shack in Kentucky we pulled up to didn't say those exact words.
We only had one conversation the entire trip start with "You guys aren't from around here, are you?"  That's pretty neat now that I think and look back at it.   I was expecting a much more awkward conversation, but it wasn't.  So that makes me think about why I in general expect looks or questions about my appearance.  And just to prove that I'm not singling out white people for my racism experiences in America, let me tell you about one of my older brother's favorite korean bbq restaurants.
Sikhye, Sweet Rice Drink
There was this Korean BBQ that my older brother Hang and his wife D (awesome people, btw… not just because I'm related to them) go to.  They frequented the restaurant because the food was great, service was awesome, and the people were really nice.
So one night, it may have been someone's birthday, I was in town (bday would make sense for why I was in town) and I think D suggested that we go get Korean BBQ.  Awesome!  I love korean bbq.
For anyone wondering what that is, they're restaurants where everyone sits around an open bbq pit, and you're given all these wonderfully marinated and thinly sliced meets and vegetables to bbq over.
This usually comes with endless kimchi.  It serves as both appetizer and side dish.  Rice rounds out the meal.  The rice itself is light and sticky, similar to sushi rice.  They never give you enough rice.
So anyway, my brother and sister law have been regulars for awhile.  We get to the restaurant in the evening for dinner, and they're greeted with warm smiles and a centrally located table on the main floor.  They know Hang and D's names, and they know about the kids and Uncle Miller and Aunt Marilyn.
On the way there, and before, D was telling me about the dessert.  It's this fantastic Sweet Rice Drink called Sikhye.  It's light, sweet, and perfect.  I think that D even said that it was her favorite.  I may be wrong.  But case in point, the sweet rice drink was to die for.
And this place did not disappoint.  Service was spot on.  The hostesses chatted with us like we were old friends.  And then they turned to me, a new face, and asked… who's this?  Expecting something like "oh, it's a friend."
Hang says, "that's my little brother, Phong."
Something changed at that moment.  You see, we asians can not only spot another asian a mile away, but we're also pretty damn good at calling out which asian country and region you're from.
And this is something we're serious about.  Reputations are at stake.  Customs, traditions, and manners vary slightly from culture to culture.  We're so paranoid about it that we make sure to clarify during introductions where we're from.
Despite the slight change in tone, everything carried on as normal.  Dinner was great and the staff were warm and awesome.  Then time for dessert.  While they present the check, clear the table, and prepare to bring out dessert, D and now me too are excited for this awesome rice drink.
And then not too much later, here comes the dessert!!!!….
Orange slices.
So when I say something changed at that moment, it's subtle.  Korean faces tend to be more round and fair.  And my older brother was a bit more heavy, worked indoors in an office, and has a much rounder face than I do, with the standard short asian hair cut.  In essence, at the time, it was easy to mistake him for being Korean.
I'm sometimes mistaken a for being mixed Caucasian and Japanese, because my face is longer with more angular features, and I'm also 4 inches taller than my older brother and have long hair flowing past my shoulders, and had a good tan going.
So when Hang introduced me to the wait staff, they quickly realized that Hang wasn't Korean.
Back in Ashfork
So back to Ashfork, Arizona @ 5PM on a rainy day in April and I have to admire the skills on this guy walking up and opening a conversation with a couple different looking people with a statement about how they looked different.  And then to do it in a pretty nice way.
It gave us a chance to say hi, get to know each other (and I've forgotten all his details), and let him know what and where we were headed off to.  Pretty pleasant fellow.
We'll be getting a lot of that practice explaining ourselves to people we meet.  It will sometimes start with looks, but in general, the comments and hollers we get are endearing in their own ways…
"Excuse me, but what are you?"

"Why's your hair so nappy?"

"No darkies allowed!"
… much more to be continued in Part 4.
---
Asa and I had no particular place to go and no particular place to be.  We just went where we wanted to go.  It was and still is one of the most favorite times of our lives.  Parts 1, 2, 3, 4, 5 (Coming Soon)