As we get closer to the end of February and as we continue to discuss and consider our travel plans, we're finding that problems crop up.  The first problem we're coming up against is in trying to establish a good estimate for travel time so that we may set up a reasonable budget.
Our leave date is set, Feb 28.  Our arrival date is open, but we don't want it to be too open because we want to respect Asa's Dad and Aunt Robin for opening up their place to us so while we get ourselves oriented in Florida.
All that time in between… that's what we need to plan for.  We've found in the last week alone that trying to come up with a reasonable estimate is hard due to the open ended-ness while also exposing us to acts of god.  The RV renter's fine print says that you will have to pay by the hour if you go over and you won't be refunded if you return it early.  We've learned from our first road trip that setting a hard date is more limiting than you think.  It creates a false sense of urgency, that you need to cram as much into your schedule as possible, and it makes you question whether you have time to go on side tangents which may catch your fancy.
So, we've decided to split the trip into 3 segments.  Its gives us much more flexibility to change plans and methods as we learn and get more experience under our belts.
The first segment will be from Portland out to the Oregon Coast.  We're going to take our time hugging the coastline starting at Lincoln City all the way down through Fort Bragg, some drive through trees I just have to see in person, the Redwoods National Parks, the Sonoma Coast, then over the Golden Gate Bridge, the new Bay Bridge, through San Francisco, and finally to Berzerkeley.
We'll linger in the bay for a month while we plan for segment 2, which should take us to Florida.
This smaller segment is much easier to plan around.  It'll be about 740 miles (according to google maps), so I've made a reservation for 800 miles.  Any overages or under estimates will be adjusted to $0.34 a mile.  That also gives us a fuel estimate.
800 miles, with an average 8mpg means that we'll need about 100 gallons of gasoline.
With the help of gasbuddy.com, I can get a pretty good idea of what gas prices are: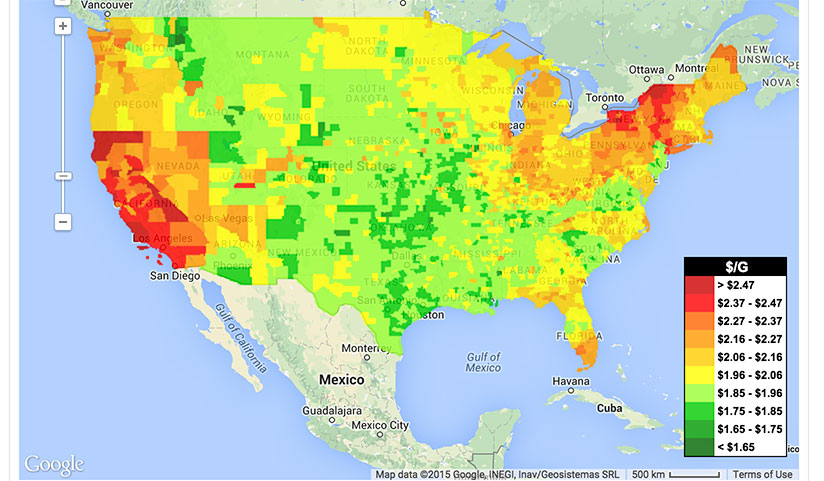 Looks like the Oregon coast is about $2.16 a gallon, and northern California is about $2.50 a gallon.  So let's use something in between, at about $2.33 a gallon.
100 gallons at $2.33 a gallon = $233 for gas.  So, let's budget $250 for gas.
Asa's already purchased us an annual America the Beautiful Pass, which will be put to great use not just for segment 1, but for the next 2 segments as well.  It'll give us access to all National Parks for a year, for about $80.
That doesn't cover state parks, of which we can purchase an annual pass at any state park for $25, or a week for $10.  No problem!
We've given ourselves a generous period of time to go what can be done in half a day, so we can just… take our time.
Because we don't have anywhere to go, and we don't have anywhere to be… until March 8th, lol.