We've been to the Saint Petersburg Saturday Morning Market twice now, and I've gotta say, this ain't too bad.  We can easily get all our produce for about 20 to 30 bucks and the selection is fantastic.
Coming from a town with a reputation for being obnoxiously local, this farmer's market doesn't disappoint.
So let's get our grocery list ready and let's go!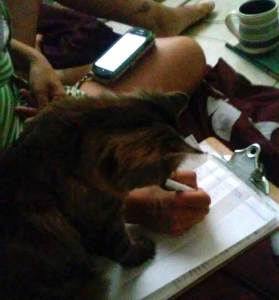 Getting there by Bike
Getting there is extremely easy, just follow one of the many bike friendly streets, some with dedicated bike lanes.  Word of caution though: most drivers aren't used to driving alongside cyclists.  So exercise caution as we've already come across all of these:
Drivers rolling through stop signs

Drivers accelerating through yellows

Drivers rolling through corners while making a right and looking left

Overgrowth blocking bike lanes
But there is a silver lining – drivers will give you an extremely wide berth when passing or driving alongside, opposing traffic permitting.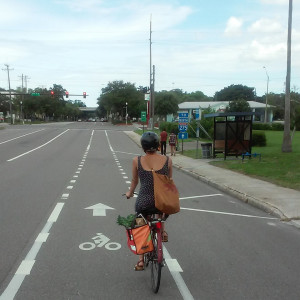 Bike Parking
There are a fair amount of places to lock up your bike.  Some designs are better than others, and I guess the main difference that I've noticed is the type of lock that people use.  Having lived in the Bay Area and Portland where bike thieves will steal anything not bolted to the ground (I've had my bike seat stolen before… grrr), I've gotten used to using my U-Lock to quickly lock up my front wheel and frame.
Here in Saint Pete's, we've noticed that people use cables instead.  Could this be a sign that bikes are a bit safer from being stolen part by part?  I think so.  So I guess another plus in living in a city with so few bikers is that stolen parts are less in demand!
In any case, there's no convenient bike parking for the Saturday Morning Market.  So we lock up to a sign post by a church.  We figure that the combination of location and foot traffic will be enough to deter thievery.
Nick Boutwell – The Accordionist
This was by far the most pleasant surprise when we arrived at the mark for the first time.  He plays a great selection of music he arranges from Yann Tiersen to Massive Attack.  It adds great atmosphere… if nothing else, come down, grab a bite to eat from any of the vendors, and chill out to him beat boxing and rocking the accordion.
[A video posted by Phong (@quixoticquest)](https://instagram.com/p/34GuzUGxPU/) on
Fresh Produce Galore
Large vine ripened tomatoes which make for the best BLT's, huge mushrooms, kale, squashes, berries… all of our basics are covered here – and all for very decent prices!  Just gather up what you need for the week, walk it up to the pay counter, and the guys there will tally it all up in their head and off you go :)
Snacks and Food
From the guy serving up bbq in a tuxedo and top hat, fresh squeezed lemonade, ethiopian food, fresh baked breads, and home made popsicles, there's something for everyone.  Just come on out and you won't be disappointed :)
[![asa-watermelon](http://res.cloudinary.com/dr8ejumps/image/upload/c_crop,h_960,w_960,x_0,y_0/h_150,w_150/v1436546183/asa-watermelon_djd6hw.jpg)](http://journeytojustus.com/2015/06/10/moving-to-saint-petersburg/asa-watermelon/)
[![tux-bbq](http://res.cloudinary.com/dr8ejumps/image/upload/c_crop,h_960,w_960,x_0,y_0/h_150,w_150/v1436546184/tux-bbq_ri7ttf.jpg)](http://journeytojustus.com/2015/06/10/moving-to-saint-petersburg/tux-bbq/)
[![lemon-juice](http://res.cloudinary.com/dr8ejumps/image/upload/c_crop,h_577,w_577,x_11,y_0/h_150,w_150/v1436546180/lemon-juice_xuk6pw.jpg)](http://journeytojustus.com/2015/06/22/saturday-morning-market/lemon-juice/)
[![ethiopian-ice-cream](http://res.cloudinary.com/dr8ejumps/image/upload/c_crop,h_960,w_960,x_0,y_0/h_150,w_150/v1436546182/ethiopian-ice-cream_qzz4rw.jpg)](http://journeytojustus.com/2015/06/10/moving-to-saint-petersburg/ethiopian-ice-cream/)